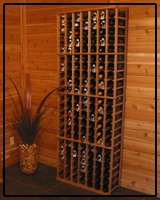 Reasonable Racks
is a family owned and operated business. Our combined years of experience in the wine industry, travels to some of the world's finest wine regions and love of wine makes us passionate about preserving your wine investment.
Wine is a living, breathing organism. It interacts with its environment and is vulnerable to conditions over which it has no control. Factors such as temperature, humidity, wood species, and construction details are all taken into consideration to make sure your collection is preserved and protected for years to come.
Our strengths are in the research and development that was the first step in the design and quality. Processes have been tested to ensure our products are always consistent in quality and design. The set up of the production area is such that there is no waste in processes thus we can design, build, and deliver a consistently high quality product every time at a reasonable cost. Our experience in lean manufacturing results in the highest quality products at the most competitive prices on the market!
At Reasonable Racks, we are dedicated to creating custom wine racking systems that will enhance the beauty and value of your collection. We strive to exceed your expectations by utilizing the highest quality materials and craftsmanship.
Your investment in Reasonable Racks ensures your wine collection will be stored and displayed in a manner that is both convenient and attractive.